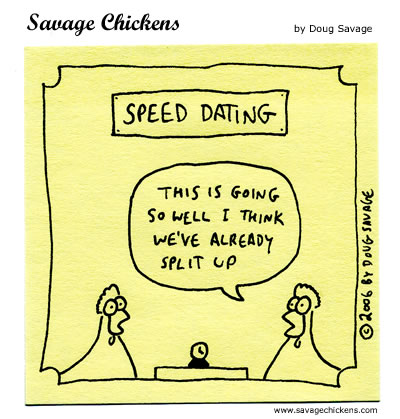 I have been thinking a great deal about 'speed dating', probably an outcome of my love life that isn't even remotely abstract. What started as an experiment seems to be the path to bliss for a lot of people. There are two lines of people, they shift from desk to desk, like raw material along an assembly line, looking at strange new faces and trying to fathom if they ought to take the next step. Each encounter lasts five minutes, long enough to make a lasting impression I suppose!
A person has exactly 300 seconds to decide if the face in front belongs to a benevolent angel or to an anthropological error. Speed dating scores even lower than blind dating because there isn't enough room for stimulating conversation or even a misanthropic yet well meaning insult.Even for people who live a lifetime in a minute, speed dating can be quite a turn off if the prospective date doesn't.
I cannot bring myself to attend a speed dating extravaganza. It takes me a little more than 300 seconds to make an impression and a fair assumption about 'where it will go'. In my books speed dating holds the same importance as the average saccharine coated paranormal encounter.
It takes a little more than five minutes to fall in love.