Amateurs don't discuss Hitchcock in their blogs. It is simply the wisest thing one can do. Given that the only other Hitchcock film they have seen is 'Psycho'. I am an amateur (in the most virginal sense) when it comes to Hitchcock; and I am about to risk all credibility so I can write about the Hitchcock classic 'Vertigo'.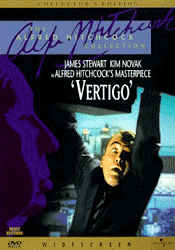 'Vertigo' stars James Stewart and Kim Novak, it runs for an hour and a half. The background score ,though seemingly innocuous, sounds almost eerie. Prior to this I had only seen James Stewart and heard his famous drawl in the romantic comedy genre, in fims like 'Philadelphia'. Stewart still plays the romantic hero with a drawl, except that he is an acrophobic detective madly obsessed with the suicidal wife of a friend. Kim Novak plays the Hitchcock archetype of 'the beautiful,classy, blonde and independant heroine with an uncomfortable secret'.
The dialogue is insipid yet loaded. The camera pans, slowly stalking the characters. The attention to detail is impressive, so is the cinematography. Hitchcock didn't need invisible, artillery laden luxury cars to make one sit and the edge of one's seat; a few furtive moves in vintage mobiles could do that. He didn't need cellphones to suggest an innuendo, circumstance was riveting enough. Hitchcock's gift for narration remains unparalleled, unsurpassed and invincible. This film stands testimony to the fact that not all low budget adaptations are prone to damnation. The hallmark of his craft lies in the way he brings an intensity to the cast, the set and the theme with the eye of a compulsive perfectionist. To dismiss the film after a single viewing is the most blatant and heinous crime that can be committed against cinema.
My only regret is that I wasn't able to spot Hitchcock's guest appearance (it is said that he makes one in every movie).